Crude Palm Oil (CPO)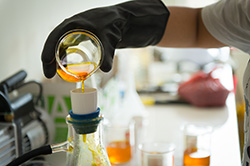 Crude palm oil is edible oil which is extracted from the pulp of fruit of oil palms. The color of pulp is red. That's why crude palm oil is naturally similar to pulp color because of high inactive vitamin A content.
It is normally processed by a physical refining process in which the oil is turned into a golden yellow refined oil for further end use applications.
Crude palm oil is an ingredient in a myriad of cooking and home and beauty products, but it is also helping to solve our environmental crisis. The more common uses of palm oil for frying and baking in the kitchen are wider known, but some of your favorite soaps and lotions may also contain this versatile oil. A lesser known fact is that palm oil can serve as a diesel substitute.
---
Palm Kernel (PK)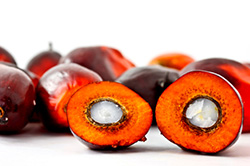 The palm kernel is the edible seed of the oil palm tree which can be derived to palm kernel oil.
Palm kernel oil is white or yellow, has a pleasant taste and smell and bears an external resemblance to coconut oil.
It is widely used in oleo-chemical industry (soaps, cosmetics, plastics) as well as for human consumption. The hard fraction is used as cocoa butter substitute while oil itself or the softer fraction can be used as a filling fat.
---
Palm Kernel Shell (PKS)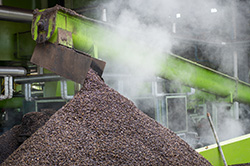 Palm kernel shell can be considered as pellet form because of it nature form, due to it high grade solid, low ash and low sulphur content, palm kernel shell has been used as a burner for power plant.  One of the most favorable used of palm kernel shell is to process become charcoal.
Palm kernel shell has gained it status as a biofuel resource for biomass product.  It also classified as a renewable energy that complies with country energy regulation, such as Japan, Korea and Europe.  Palm kernel shell also consider as the replacement for wood chip.
---
Bunch Ash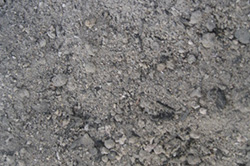 Palm Bunch Ash is a fertilizer from oil palm fruit ash (the empty fruit hulls are burned and the ash is collected and used as a fertilizer) which is a source of Potassium. The organic type ashes can be mixed with other fertilizer such as manure, rice husk or microbe to formulate a nutrient balance fertilizer for various crops.
Organic fertilizer is a mandatory product for introducing microbe in the soil.  Many studies have shown that organic fertilizer or palm ashes have brought substantial advantage to crop.
Further more, due to continual high price on NPK fertilizer, many plantation owners have re-studied their fertilizer management system to include palm ash as part of their strategy.
---
GPS Vehicle Tracking
Protect your company assets or personal vehicles via our GPS vehicle tracking service.
Our GPS tracker units comes with the following features:
2 minutes tracking interval.
Panic / SOS button.
Alarm triggered reporting.
Fuel pump circuit cut function.
Location reporting via SMS.
Web based tracking interface.
We are a also registered GPS panel of MPOB for their SPS system (Sistem Pemantauan Sawit)
Please click here for more information.
---
Interested in dealing with us? Please contact our Sales & Marketing personnel:
| | | |
| --- | --- | --- |
| Person in charge | : | Mr. David Wong |
| Telephone | : | 013-839 0615 |
| Email | : | david@puigroups.com |